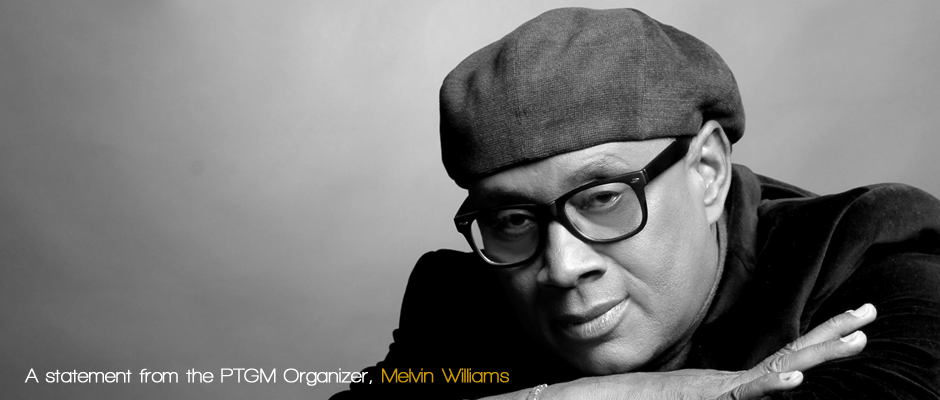 Since the age of six, I've been in front of the microphone some 55 plus years singing and traveling with my brothers all over the world. Singing songs I grew up listening to by artists that helped shaped who I am today. Artists that put a stamp on my heart and soul, so deep, 'til this day it still remains relevant after all these years. Artists like the Dixie Hummingbirds, the Sensational Nightingales, the Blind Boys, Mahalia Jackson, Thomas Dorsey, Aretha Franklin, Sam Cooke, The Soul Stirrers, Mavis Staples, The Staples Singers, Dorothy Love Coates, Edna Gallman Cook, The Mighty Clouds of Joy, Reverend James Cleveland, Swanee Quintet, Otis Redding, The Caravans, Shirley Caesar, Joe Tex, Joe Simon, Wilson Pickett, Bo Diddley, Stevie Wonder, and from the man who breastfed us wisdom and knowledge from kids to our first national recording contract, my dad, Leon "Pop" Williams and the legendary Jackson Southernaires. It's artist like these and many more that paved the way for myself, The Williams Brothers and many other artist to have a platform to write and sing traditional gospel music. And now I'm blessed to have the opportunity and privilege to be in front of the microphone, not just to sing this music, but a global multimedia platform to spread it across the country and abroad to the now and new generation in hopes that they will embrace it, appreciate it, and understand that this music, this Traditional Gospel Music is a part of our foundation, our roots, our rock, and our heritage.
Traditional Gospel Music is a form of music that withstands the test of time from slavery to migration, segregation, integration, procrastination and in this generation, pushed aside, criticized, downsized but yet after over 300 years as the words of Doug Williams' song "I'm A Living Testimony," it's "Still Here!" The proof is is in the pudding as the legendary Edwin Hawkins sings, "Oh Happy Day", the legendary Andrae Crouch and Marvin Winans records a song like "Let The Church Say Amen" and it becomes a hit, like the Mississippi Mass Choir's "Your Grace and Mercy," Lee Williams' "I Learned to Lean on Jesus," Dottie Peoples' "On Time God," the Canton Spirituals "Fix It Jesus," and Evelyn Turrentine Agee's "God Did It." And, as gospel music's contemporary artist pay homage to traditional gospel church music like Mary Mary's Erica Campbell's hit song, "A Little More Jesus," Regina Belle's "God Is Good" and "This Means War" by Charles Jenkins.
Is there a word or a name that sticks out to you in these songs? Yep, GOD! He's Everything! He's the same yesterday, today and forever. His Holy Spirit, His blood, His anointing, His salvation, His deliverance has not and will not ever change or die. And that s why Traditional Gospel Music will never die! It's filled with the same ingredients. That's why people are still being saved and delivered by Traditional Gospel Music today. And it's part of our black and white history, our American history, more important it's part of God's history...His creation.